Jurassic World: Dominion Dominates Fandom Wikis - The Loop
Play Sound
Eternity How Long
---
---
---
---
| | |
| --- | --- |
| Original airdate | April 27, 2014 |
---
Nielsen rating
18-49 rating:
0.30
Viewers (million):
1.30
---
---
---
---
Abe and Richard grapple with orders to dig up gravestones; Ben and Caleb try to get their intelligence to Washington.
Summary
In the Setauket church cemetery, Abe, Mary and Richard gather at the grave of Abe's brother, Thomas, for a memorial. Abe recalls when Thomas comforted him at their mother's funeral.
Nearby, Redcoats flog the waterfront sentries, including Ensign Baker, as Hewlett admonishes them for letting a scout (Caleb) escape. Convinced that the scout portends a rebel attack, he contemplates ways to bolster the garrison and eyes the gravestones.
At the Continental Army's flying camp, Caleb gives Abe's report on the Hessians' impending march to Trenton to Ben, noting that Abe came through.
In the church, Hewlett outlines his plan to use cemetery gravestones to fortify the garrison. Richard objects, calling it a desecration. Hewlett gives him three days to decide on ten gravestones to be removed.
Ben presents Abe's report to General Scott and urges him to share the intelligence with General Washington. When Ben and Caleb refuse to reveal their source (Abe), Scott dismisses the intelligence as unsigned and unverified and burns the report.
At Whitehall, Abe warns Richard that the town will turn against him if he helps Hewlett remove family gravestones. He urges Richard to allow the town to turn against Hewlett. Richard ignores his advice.
In a boarding room in a New Jersey tavern, John André and Philomena rehearse Philomena's cover as Iris, a tavern wench. André reassures her that her target will not suspect her.
That night, in the same tavern boarding room, Philomena entraps General Charles Lee, the Continental spy that provided the tip about the Connecticut safe house where Hewlett's men were ambushed. André takes Lee captive.
At home, Mary kisses Abe and says she wants another baby. When Abe withdraws, Mary asks what'a troubling him. He agrees to tell her as long as she keeps it secret.
The next day, Mary performs quilting work with a group of women at the Scudder home. As they gossip, Mary is tricked into revealing Abe's secret about the gravestones.
To the sounds of Philomena screaming in the next room (her screams are fake - she's actually playing cards with André's men) André questions Lee at a safe house without revealing that he is the British contact that Lee has been sending his intelligence to. Lee mentions supplying the British with the location of the safe house, and when André says the men sent to the safe house were ambushed, Lee insists he knew nothing about the attack. Convinced of Lee's sincerity, André reveals his identity.
At the Woodhull farm, Abe looks out the window and sees a mob of townspeople heading toward Whitehall. Mary admits that she let the news about the removal of the gravestones slip.
Led by Maarten Dejong, the mob arrives at Whitehall to confront Richard. Richard promises no stones will be taken without family consent. Momentarily placated, the crowd disperses. Richard crumples a list of ten gravestones he had already drawn up.
Knowing that Scott only reads the first page of intelligence reports, Caleb suggests tucking Abe's report inside another report in order to smuggle it to Washington.
Richard visits Lucy Scudder and asks her to donate a gravestone to inspire other families. She refuses, calling Hewlett's plan a bad idea.
Dejong visits Abe at the farm and threatens to harm Richard and his business. Abe punches him and defends Richard.
Ben and Caleb fabricate a scouting report and fold Abe's intelligence inside. Scott reads the first page of the fake scouting report and declares it worthy of passing onto Washington. To Ben's relief, Scott does not notice Abe's report tucked inside.
At Whitehall, Richard bemoans the difficulty of his task and requests more time. Hewlett refuses.
Abe informs Mary he's going to Whitehall to tell Richard something that will put a stop to the gravestone business.
At the safe house, André says he came by Lee's letter to the president of the Continental Congress, in which he expresses doubts about Washington's suitability as commander. André proposes a plan in which Lee "heroically escapes" and parlays his hero status into a role as the new commander of the Continental Army. After assuming command, Lee would then urge the Continental Congress to surrender. Lee entertains the idea.
At Whitehall, Richard acknowledges to Abe that Hewlett's plan is "folly." Abe counsels Richard to call Hewlett's bluff and lead the townspeople against him, rationalizing that Hewlett doesn't want to lose Setauket. Richard embraces Abe's words and likens him to his first and favorite son, Thomas.
Abe's report is delivered to Washington's headquarters and placed on a large table that is stacked high with other reports.
As the Redcoats distribute pickaxes and shovels for gravestone removal, Dejong distributes muskets to the townspeople.
The Redcoats and townspeople face off in the cemetery. Richard intervenes and invokes God, urging the townspeople to make sacrifices "just as God sacrificed his own son to save us all." The townspeople murmur as Richard starts digging up Thomas' gravestone. Abe watches, appalled. The townspeople follow suit and start digging up their family gravestones. Dejong apologizes to Abe and Richard.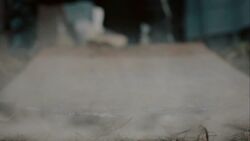 Hewlett smugly watches everyone dig. He tells Lt. Appleton that if it's so hard for the townspeople to dig up their family gravestones, it will be even harder for the rebels from the same region to fire on the stones. "This is how you tame a colony," Hewlett says. "Not through battle, but through winning their hearts and minds."
Quotes
Credits
Cast
Starring
Also Starring
Co-Starring
Mark Halpern

as Lt.

Appleton

Melissa Charles

as

Lydia Ketcham

Taylor Roberts

as

Rachel Clark

Matt Boliek

as

Ezra Conroy

Logan Bennett

as British Guard

Michael Blumenstock

as Man in Black
Thomas Keegan as Ensign Baker

Brian Lafontaine

as Dr.

Mabbs

(uncredited)

Alan Sader

as Minister (uncredited)
Crew
Opening credits
TURN
Closing credits
Co-Producer Mitchell Akselrad
Co-Producer

Aïda Mashaka Croal

Associate Producer

Jim Hilton

Executive Story Editor LaToya Morgan
Unit Production Manager

Larry Rapaport

First Assistant Director

Jason Ivey

Second Assistant Director

Caroline Stephenson

Virginia Casting by

Erica Arvold

, CSA
Costume Designer

Donna Zakowska

Production Supervisor

Kate Amer

Art Director

Richard Blankenship

Set Decorator

Catherine Davis

Property Master

Kelly Farrah

Head Hair Stylist

Ardis Cohen

Head Make-Up Artist

Ashley Fetterman

Key Wrangler

Doug Sloan

Leadman

Craig Taylor

Key Greensman

Tim Taylor

A Cam First Assistant Camera

Liz Heslep

B Cam First Assistant Camera

Tim Risch

Script Supervisor

Rachel Atkinson

Key Make-Up Stylist

Rhonda Bareford

Key Hair Stylist

Greg Bazemore

Assistant Costume Designer

Marina Reti

Costume Supervisor

Donna Adrian Gibson

LA Casting Associate

Kendra Shay Clark

, CSA
Production Sound Mixer

William Britt

Re-Recording Mixers

Aaron Levy

,

Ethan Beigel

Supervising Sound Editor

George Haddad

Music Supervisor Thomas Golubić
Music Consultant

Tony Berg

Music Editor

Angela Claverie

Post Production Supervisor

Christina M. Fitzgerald

Post Production Coordinator

Michael Prosetti

Post Production Assistant

Mark Torres

VFX Supervisor

Christian Cardona

On Set VFX Supervisor

Brad Kalinoski

VFX Producer

Andy Simonson

Assistant Editor

Tucker Marolf

Production Services Provided by Stalwart Films, LLC
Visual Effects by LookFX, Inc.
Post Production Sound by Todd-AO Studios
Digital Dailies

Rex Teese

High Definition Post Production ArsenalFX Color
Main Title Design by Shine *Main Title Theme "Hush" by

Joy Williams

,

Charlie Peacock

&

Matt Berninger

Performed by Joy Williams & Matt Berninger

Filmed with ARRI Cameras and Lenses
Special Thanks to The Commonwealth of Virginia, Virginia Film Office, Virginia Department of Corrections
Appearances
By type
Characters
Events
Locations
Organizations and titles
Continental Congress

(mentioned only)
Sentient species
Miscellanea
Links and references
External links