George Washington
Basic Information
Name:
George Washington
Status:
Deceased
Age:
67 (at death)
Date of birth:
February 22, 1732
Birthplace:
Westmoreland County
Virginia Colony,
British America
Date of death:
December 14, 1799
Place of death:
Mount Vernon, Virginia,
United States of America
Nationality:
American
Residence(s):
Mount Vernon, Virginia,
United States of America
Alias(es):
Nickname:
Hero of Monongahela
Culper code number:
711
Affiliation:
Virginia provincial militia
Continental Army
Culper Ring
Profession:
President of the United States
Continental Army:
Commander-in-Chief
Rank:
Continental Army:
General
Commands:
Virginia Colony's regiment
Continental Army
Battles/wars:
French and Indian War
 • Battle of Fort Necessity
 • Braddock Expedition
 • Battle of the Monongahela
American Revolutionary War
 • Battle of Harlem Heights
 • Battle of Trenton
 • Battle of Princeton
 • Battle of Brandywine
 • Battle of Monmouth
 • Siege of Yorktown
Family Information
Father:
Augustine Washington (d. 1743)
Mother:
Mary Ball Washington
Sibling(s):
Brothers:
Samuel Washington
John Augustine Washington
Charles Washington
Sisters:
Betty Washington Lewis
Mildred Washington (d. 1740)
Half-brother:
Lawrence Washington
Marital status:
Married
Spouse(s):
Martha Dandridge Custis
Other family:
Nephews:
Bushrod Washington
Portrayal
Played by:
Ian Kahn
Bryan Adrian (young)
Seasons:
1, 2, 3, 4
First episode:
"Epiphany"
Last episode:
"Washington's Spies"
First mentioned:
Turn: Origins
Appears in:
1 series, 4 seasons, 24 episodes, 1 comic
Gallery
"Excellent question."
―George Washington's recurring response to Benjamin Tallmadge's questions.
George Washington (February 22, 1732 [O.S. February 11, 1731] – December 14, 1799) was an American politician and soldier who served as the first President of the United States from 1789 to 1797 and was one of the Founding Fathers of the United States. He served as Commander-in-Chief of the Continental Army during the American Revolutionary War, and later presided over the 1787 convention that drafted the United States Constitution. He is popularly considered the driving force behind the nation's establishment and came to be known as the "father of the country," both during his lifetime and to this day.
In 1776, with the assistance of the early beginnings of the Culper Ring, General Washington received intelligence regarding a Hessian encampment at Trenton, New Jersey. He led the Continental Army across the Delaware River into a surprise attack against them.
After the victory, General Washington met with Captain Benjamin Tallmadge, a member of the Culper Ring and began to question him about Abraham Woodhull, becoming interested in their war efforts.
Along with Captain Tallmadge, Nathaniel Sackett and General Charles Scott, the topic of making the spy ring official was discussed. After much conversing, General Washington promoted Tallmadge to Major, gave him command of the spy ring and with Tallmadge choosing the given name of Samuel, after his own brother, Washington chose the name Mr. Culpeper for Abraham's alias.
General Washington later worked with Major Tallmadge and Sackett to counter a British strategy to take Philadelphia, but the British managed to capture the city. Washington later told Tallmadge to engage Abe or to recommend a new head of intelligence. Soon, Washington received intelligence gathered by Abe in New York on British forces.
General Washington later received intelligence from Patience Wright and made plans for it to reach the French. Soon after, Sackett was killed and the intelligence was retrieved by Robert Rogers after killing its carrier. Washington soon became conflicted after Abe was captured in New York, with Major Edmund Hewlett being held, as well, for murder and being a way for Abe to be released.
General Washington decided to pardon Hewlett to free Abe, but Hewlett's captors were attacked by Captain John Graves Simcoe and the Queen's Rangers, with Hewlett fleeing. Washington later met with his major generals and informed them of a plan to retake New York. After leaving the meeting, Washington was greeted by Lafayette, a French officer who informed him that King Louis was impressed by his victory at Saratoga and would like to form an alliance.
General Washington later led the Continental Army to victory during the Battle of Monmouth, exposing General Charles Lee for his attempt to set a trap to cause them to lose the battle. With the help of the Culper Ring and new members, Robert Townsend, a plot against Washington was soon foiled, with Ben and Lieutenant Caleb Brewster securing Major William Bradford and Thomas Hickey, one of his accomplices. Washington soon viewed the hanging of Bradford and Hickey, along with Ben and Caleb. Another spy, Reverend Worthington was discovered due to intelligence from Townsend. After receiving permission from General Washington, Ben executed Worthington a short time later.
General Washington later received a message from Townsend regarding a British plot to print counterfeit money and devalue the Continental dollar. General Washington soon met with Ben and Caleb to discuss Townsend's report. Washington lamented that they received the message too late. Ben, Caleb and Anna discussed where to find the shovers and how to stop them. After the three realized the British plan, Ben, Caleb and others went to stop them, resulting in the death of Lieutenant Gamble, the man who killed Sackett.
When Ben and Caleb returned to camp, General Washington and Ben examined the counterfeit bills that they recovered in the Moodna Creek raid. Unable to discern any difference from legitimate bills, Washington decided to visit Philadelphia to convince Congress to recall all bills. He also decided to reduce the delivery time of Townsend's reports by eliminating the Setauket run and cutting Abe out of the Ring.
General Washington, Ben and William Lee later attended a ball thrown by Benedict Arnold. Washington was reunited with his wife Martha during the ball. When Arnold later met with General Washington in private, Arnold begged Washington to move up the date of his court martial so that he could quickly settle the accusations against him. Joseph Reed shortly after threatened to deny Washington's recall request if Washington helped Arnold. As Washington mulled over his dilemma, Martha playfully accused him of not wanting to be disliked by anyone.
After making a decision, General Washington informed Arnold that he would ask Congress to speed up the court martial process. Arnold thanked him profusely. Not long after, Washington danced with Peggy while Martha danced with Arnold. A flicker of unease crossed Ben's face as he watched everyone, not knowing that Arnold had written to John André.
Biography
Edit
Early life (1732–1753)
Edit
The first child of Augustine Washington (1694–1743) and his second wife, Mary Ball Washington (1708–), George Washington was born on their Pope's Creek Estate near present-day Colonial Beach in Westmoreland County, Virginia. According to the Julian calendar and Annunciation Style of enumerating years, then in use in the British Empire, Washington was born on February 11, 1731; when the Gregorian calendar was implemented in the British Empire in 1752, in accordance with the provisions of the Calendar (New Style) Act 1750, his birth date became February 22, 1732.
He received the equivalent of an elementary school education. Thanks to his brother Lawrence, Washington was appointed official surveyor for Culpeper County.
Washington later traveled to Barbados with Lawrence, who was suffering from tuberculosis, with the hope that the climate would be beneficial to Lawrence's health. Washington contracted smallpox during the trip, which left his face slightly scarred, but immunized him against future exposures to the dreaded disease. Lawrence's health did not improve; he returned to Mount Vernon, where he died in 1752.
French and Indian War (or 'Seven Years War', 1754–1758)
Edit
The French attacked and captured Washington at Fort Necessity in July 1754. However, he was allowed to return with his troops to Virginia. Both France and Great Britain were ready to fight for control of the region and both sent troops to North America in 1755; war was formally declared in 1756.
During the French and Indian War, George Washington served on the same side as Robert Rogers.
Braddock disaster 1755
Edit
"Stand with me, men! Fight!"
―George Washington to British Army forces during the Battle of the Monongahela.
In 1755, Washington was the senior American aide to British General Edward Braddock on the ill-fated Braddock expedition. This was the largest British expedition to the colonies, and was intended to expel the French from the Ohio Country. The French and their Indian allies ambushed Braddock, who was mortally wounded in the Battle of the Monongahela. After suffering devastating casualties, the British retreated in disarray; however, Washington rode back and forth across the battlefield, rallying the remnants of the British and Virginian forces to an organized retreat.
Later on, Colonel Washington and his men buried General Braddock and held a memorial service for him. After the service, Colonel Washington rode to Fort Cumberland, Maryland and was complimented by his superior officer on his service during the battle, having had two horses shot out from under him and surviving without a scratch on him.
Colonel Washington was then informed that many now call him the Hero of Monongahela. However, his superior officer informed him that his surrender at Fort Necessity one year prior and the loss of General Braddock had caused the upper ranks to re-evaluate the promotion that he had been seeking. He was informed that he will remain in the Provincial Militia, giving support to the Royal Army officers.
Colonel Washington was then ordered to ship all of General Braddock's belongings to General Johnson, including a blade that General Braddock had given him during the battle. He agreed to the order as he left his superior officer's tent. Later, the same superior officer had a meeting with Robert Rogers, ordering Rogers to continue northern attacks. After giving Rogers his orders, the officer left the tent, with Braddock's blade remaining on his desk, which Rogers soon took.
American Revolution (1775–present)
Edit
Commander in Chief
Edit
After the Battles of Lexington and Concord near Boston in April 1775, the colonies went to war. Congress created the Continental Army on June 14, 1775. Washington was then appointed General and Commander-in-Chief.
Robert Rogers later arrived in York City, America from London. He soon managed to have a meeting with General Henry Clinton and Captain John André and offered his services to them. After General Clinton offered to consider the proposal, Rogers left, telling them not to wait too long to make a decision.
Rogers then went to General Washington, returning to him the blade that General Braddock had given to him years earlier and to offer him his services. However, Washington had been informed of Rogers' offer to the British, as Rogers had been followed under Washington's orders. Rogers attempted to grab the blade and attack Washington, but he was stopped by William Lee and soon seized by Continental guards. Washington placed him under arrest and ordered the guards to have him taken to New Hampshire to be tried for treason.
Rogers later escaped on the way to New Hampshire after killing one of the Continental soldiers transporting him and knocking out the other, soon returning to Clinton and André and warning them that Washington was wily, dangerous and that even if he is outnumbered, he can still achieve victory. Clinton and André accepted his offer.
"Do not yield an inch!"
―George Washington to Continental Army forces during the Battle of Harlem Heights.
In the autumn of 1776, General Washington led his soldiers on the battlefield against the British during the Battle of Harlem Heights, fighting alongside them and obtaining a victory after the British retreated. He later observed their encampment for movement and noticed a stalemate, hoping that his troops in New Jersey had obtained similar favor.
However, Washington was later informed by the advance New Jersey unit that Captain Benjamin Tallmadge's entire regiment was lost, drawn into a tactical ambush by Rogers and the Queen's Rangers. Washington, angered, swiped the papers on his desk into the air. He soon sent for a messenger, to get a message to Westchester County, to be delivered to Nathaniel Sackett, a civilian, in the hopes of recruiting others like him, having need of their services.
Later, General Washington was evading the British Army. After the capture of Fort Lee, it was rumored that Washington had been taken captive by the British. This information struck fear into various Continental Army forces, including Quill, Eben and Newt Bascombe.
The three brothers then committed a mutiny against General Charles Scott, attempting to retrieve the prisoner, Captain John Graves Simcoe and return him to the British Army for a fee. However, with some trickery, Captain Benjamin Tallmadge managed to kill Quill and take the remaining two brothers captive.
Captain Simcoe was taken back into Continental Army custody and Eben and Newt were shortly after executed by General Scott, who wanted them to serve as an example to those that would try to do the same.
During these events, Abraham Woodhull was in New York and encountered two Hessians gathered around a campfire, with their fellow soldiers marching in the distance. Abe questioned them as to their purpose and was soon informed of their intentions to march upon Trenton, New Jersey.
Abe brought this information to Lieutenant Caleb Brewster, who in turn brought it to the attention of Captain Tallmadge via a letter. Tallmadge and Brewster informed General Scott of the information, but the General refused to believe it without knowing the name of its source and burned the letter.
Caleb and Tallmadge then worked together to craft a new letter and smuggle it into a report that would be read by General Washington. They went to a fellow Continental Army soldier to write the new letter and through some trickery and false information, General Scott approved their fictional report, with Abe's information attached to it.
The report was delivered to General Washington's headquarters, but it was placed among a table of a great many other reports for the General to read.
Crossing the Delaware
Edit
"Now... just who is Abraham Woodhull?"
―George Washington to Benjamin Tallmadge.
However, General Washington managed to receive the letter and on December 25th, he crossed the Delaware River and marched his troops to Trenton and defeated the Hessians. General Washington and his troops then marched to Princeton, with Tallmadge and Brewster aiding the remaining few troops in tricking the British Army into believing that the Continental Army remained encamped across from them.
After the Continental victories at Trenton and Princeton, General Washington arrived at Continental headquarters in Morristown, New Jersey to grand praise from his men and met with Captain Tallmadge, asking who Abraham Woodhull was.
Formation of the Culper Ring
Edit
General Washington introduced Captain Tallmadge and General Scott to Nathaniel Sackett and a discussion between the four occurred regarding bringing the spy ring to an official status. Washington let it be known that he was weary of contradictory accounts of enemy intentions and informed the men that he asked them there to determine if the success of Abe's Trenton intelligence was a fluke and perhaps, more importantly, that the fluke can be repeated.
General Scott opposed Sackett's being there, as he was a civilian, but Washington informed Scott that Sackett came to his attention by way of William Duer. General Washington asked the room to explore the chain of spies notion to be explored and a unified recommendation to be ready upon his return.
General Washington asked if anyone had any questions, to which Tallmadge asked how he came upon the name Woodhull. Replying only that it was an "Excellent question", Washington then asked if Sackett had any questions of his own, to which he replied that he had plenty, but none for Washington. Washington then left the room, leaving the other three men to discuss a potential spy ring.
After General Washington returned, he learned that there was much debate and mistrust regarding Tallmadge's questioning of General Washington's source for Abraham Woodhull's name. Washington then brought Tallmadge outside and explained to him that he gathered the knowledge through a Continental spy and friend of Tallmadge, the late Nathan Hale.
After an earlier suggestion by Sackett, General Washington then concocted an alias for Abraham, Mr. Culpeper. After promoting him to Major and giving him command of the spy ring, General Washington left the given name for Tallmadge to decide, to which Samuel was chosen, in honor of his brother.
The Culper Ring was officially formed, with General Washington in command and with members including Sackett, Ben, Abe, Caleb, Anna Strong and Abigail, a former slave and housemaid of Anna's now spying for the Culper Ring as John André's housemaid in New York.
1777 campaigns
Edit
When Caleb gave Abe a dictionary with numbers referring to names and words to use in the correspondence to agents of the ring, General Washington was referred to as 711. Soon after learning his alias from the dictionary, Abe revealed his distaste for the Culpeper name.
General Washington would later meet with Major Tallmadge and Sackett in Morristown, regarding a possible Philadelphia attack. Having decoded enemy dispatches using a cipher key that Abe obtained from John André, they learned that the attack would come from the south and not the north as reports had led them to believe.
General Washington ordered Major Tallmadge to ready a detachment of dragoon and militia troops to head north and rendezvous with General Arnold in Connecticut to play into Britain's plan, while the Continental forces shored up their southerly defenses on the Delaware in preparations for the attack and gave him discretion to act as he saw fit to fulfill his mission.
Major Tallmadge later led Continental forces into Setauket to rescue his father and Lieutenant Brewster's uncle. Partly a success with the rescue of the elder Tallmadge, Lieutenant Brewster's uncle was killed by Captain Simcoe, who was soon after arrested.
The Continental forces withdrew after Major Edmund Hewlett released the prisoners into Continental Army custody. A part of the brief battle, Abe Woodhull agreed to continue working for General Washington, so long as he could use the name "Culper" instead of his given alias.
Two months after the Battle of Setauket, Major Tallmadge brought a written attack against General Washington's leadership to his attention. Entitled "The Thoughts of a Free Man", it was an anonymously written attack that blamed General Washington for the loss of Philadelphia, calling for his exile and even compared him to the demon Baʿal. Major Tallmadge then informed him that there were rumors that Generals Gates and Lee had written to congress, calling for his removal as Commander-in-Chief.
General Washington paid little mind to Major Tallmadge's report of the written attack and reminded him that he asked for an intelligence report on the movements of the enemy forces and not rumor. Major Tallmadge then informed him that he saw himself as the eyes and ears against all threats to his leadership. In reply, General Washington asked Major Tallmadge what he saw and heard from Philadelphia -- nothing. He then asked about New York -- nothing as well.
"I require a full report on New York Harbor before we move camp. You shall engage Culper or recommend to me a new head of intelligence."
―George Washington to Benjamin Tallmadge.
With no new information from Philadelphia or New York, General Washington asked Major Tallmadge about any word from Abe, to which Major Tallmadge informed him that it was still too dangerous to make contact. General Washington then asked for a full report on New York Harbor before they move camp from from Morristown, New Jersey and to engage Abe or to recommend to him a new head of intelligence.
Major Tallmadge later became involved in an argument with Major William Bradford over the written attack. The argument led to a physical brawl between Major Tallmadge, Major Bradford and various Continental troops against Tallmadge. As he was held down by the men, Lieutenant Brewster arrived and struck Major Bradford. Tallmadge and Brewster then fought and quickly beat Bradford and the men, ending the brawl.
Later, at a dinner amongst General Washington, Major Tallmadge and other Continental officers, as well as Théveneau de Francy, General Lee began to read "The Thoughts of a Free Man" aloud. Lee stopped reading and informed General Washington that he wouldn't want to read it, so General Washington insisted that it be read by Lee instead. During the reading, General Arnold arrived and took the writing from Lee. He then read it and mocked it aloud, insulting Lee and defending General Washington, to Major Tallmadge's agreement.
General Washington then introduced Théveneau de Francy to General Arnold, who asked Arnold to join them. Arnold looked and was unable to find an empty seat, but Major Tallmadge volunteered his seat at the table. General Washington then asked Arnold if he still had an appetite, to which Arnold replied, "Always". General Washington then nodded at Lee, who had a look of annoyance on his face.
Arnold later disobeyed retreat orders given by General Gates during the Battles of Saratoga and managed to secure a victory, but was wounded in the left leg, where he had been wounded twice before, in the process.
"Seems our Culper Ring is alive and well."
―George Washington to Benjamin Tallmadge.
Through Abe's travels to York City to gather intelligence, General Washington later received and excitedly read Abe's report on British forces, as well as intelligence from Abigail in Philadelphia. However, having not heard of Abigail earlier and with the note, reading: "General Lee a traitor," lacking context, General Washington dismissed it, to Ben's dismay.
Ben later took it upon himself to find proof to back up the letter and enlisted the assistance of Sackett to do so by forging a letter from General Gates to General Lee, to provoke and intercept a response from Lee as proof.
General Washington later visited General Arnold, still recovering from his recent wounds received during the Battles of Saratoga, in a medical tent and informed him that he's been promoted to Major General, but will still be subordinate to the same people. This angered Arnold, who pointed out that he'd won more battles than his superiors. "We must all continue to make sacrifices," Washington told him. "What do you know of sacrifice?" Arnold asked back, noting his wife did not come from means like Washington's did. Arnold then asked for Washington's support, who informed Arnold that it has been there and will always be.
Ben later went to Arnold in the medical tent and engaged in a conversation with him while secretly dropping his forged letter with Arnold's others for a courier to retrieve.
"It is better to offer no excuse than a bad one."
―George Washington to Benjamin Tallmadge.
Later, in General Washington's office, Ben read aloud a letter of General Lee's, and urged Washington to take action. Washington asked how Ben obtained the letter, with Ben informing him that he forged a letter from General Gates to coerce the response, upsetting Washington. Washington angrily rebuked Ben, telling him they cannot appear divided and weak because it will jeopardize a potential alliance with France. After Ben left, Washington began to burn the letter, putting it on his desk, but soon angrily slammed his hand down on the flame, putting it out.
Valley Forge
Edit
General Washington and his forces soon moved camp to Valley Forge. There, a British officer who claimed to be named Sutherland surrendered himself. Ben interrogated Sutherland to figure out whether he was a spy or a true defector. To prove his loyalty, Sutherland warned that a civilian named Bill Shanks would soon visit them with a "wild claim," with the true intention of spying for the king.
Caleb later returned from a mission to New Jersey with intel from a wax bust of King George. Sackett excitedly read the intel and rushed it over to General Washington. Upon reading it, Washington sent for Théveneau de Francy.
"It is time to unite."
―George Washington to Théveneau de Francy.
Later, Théveneau de Francy read the intel — a page torn from King George's financial ledger which showed that England was virtually bankrupt. Washington said that it was time to unite, with the page being proof to France that they could win the war, with de Francy vowing to take the intelligence straight to King Louis.
To throw off Robert Rogers' scent, Washington sent out decoy detachments so that de Francy could escape in the guise of a fur trader. Shortly after, Bill Shanks arrived — just as Sutherland predicted. Ben interrogated Shanks, who warned that someone close to Washington would attempt to assassinate him. Ben and Sackett continued to interrogate Shanks, who said he learned about the assassination plot when he eavesdropped on two Royal officers — one of whom had a blond braid.
Ben relayed this information to Sutherland, who identified the blond officer as John André. To test Sutherland, Ben said Washington might leave camp in response to Shanks' report of an imminent attack. Sutherland advised them to keep Washington in Valley Forge, leading Ben to presume that Sutherland wanted to keep Washington near so that he can kill him.
Ben then told Washington about Sutherland and Shanks. Washington discovered Shanks' name on a list of men who were reported missing at a recent massacre and accused Shanks of deserting and defecting to the enemy. Ben maintained his theory that Shanks was telling the truth, but Washington accused him of poor judgment and ordered Sackett, not Ben, to debrief Sutherland.
Later, Sackett interrogated Sutherland in his tent, while Ben continued to interrogate Shanks and learned that one of the Royal officers who Shanks overheard had a scar on his cheek — just like Sutherland. Ben sprinted over to Sackett's tent but it was too late: Sackett lied dead in a pool of blood, killed by Sutherland, whose name was really Gamble, a Lieutenant in the British Army.
"Certain I was right. I was certain."
―George Washington to William Lee.
Ben informed Washington that Sutherland stole vital documents, some of which contained the name Culper. He angrily stormed off, accusing Washington of being blind, with Washington saying that he was certain he was right. That night, Rogers ambushed de Francy as he secretly escaped through the woods. He slit de Francy's throat and left with the intelligence in hand.
Anna later wrote an encoded letter to Ben on the title page of a book, alerting him that Abe had been arrested. She also divulged that Abe had been pretending to spy for Hewlett in order to ensure safe passage to York City.
After hearing of the letter, General Washington fired Ben as head of intelligence for allowing Abe to "go rogue." Ben and Caleb then decided to rescue Hewlett on their own so Hewlett could exonerate Abe.
Later at Valley Forge, Billy Lee informed General Washington that a messenger to Connecticut must depart no later than midnight because of an impending storm. Washington hallucinated that his teeth were falling out of his mouth, and asked Billy to summon the doctor.
The doctor diagnosed Washington with melancholia, brought on by "deep moral conflict within the soul," and noted that the condition can sometimes lead to madness. Washington attributed the melancholia to his indecision over a written request from Major Hewlett's captor in Connecticut, Lt. Chaffee, to execute Hewlett. He enlisted Billy to help him decide Hewlett's fate, noting the execution will go forward if he does not dispatch the messenger to Connecticut in time.
Washington soon informed Billy that Culper (Abe) had been captured and imprisoned in York City on charges of espionage.
Washington agonized over his decision to execute or pardon Hewlett, who was the only man who could prove Abe's innocence. He challenged Billy to a game of Whist and reminisced about his deceased half-brother, Lawrence, who he revered. As they played, Billy suggested that Washington might be overthinking the decision, and Washington exploded at Billy. As they resumed the game, Washington surmised that Abe was still alive — which meant he probably had not confessed. Billy pointed out that Hewlett didn't confess, either.
"I am not afraid."
―George Washington as he begins to make his way into the woods.
Billy told Washington that Lawrence would never have let Hewlett live — and that Washington does not need to be like Lawrence. Washington shoved Billy onto the table and ordered him never to speak of Lawrence again. Washington then stormed outside for a walk, and hallucinated a trail of bloody footprints leading into the woods. He states that he is not afraid, before making his way into the woods.
In the woods, Washington saw an apparition of Lawrence and begged for his advice. Lawrence said he would never have lost Long Island or retreated at White Plains — but he also would not have crossed the Delaware to victory or taken on the mightiest empire on earth. "Then again, I am not you," Lawrence said, then disappeared.
Washington returned to his tent and thanked Billy for his help. He then wrote to Lt. Chaffee, staying Hewlett's execution so they could trade Hewlett for high-ranking Patriot POWs. Back in his own tent, Billy looked inside his bag and found Washington's beloved pocket watch, given to Washington by Lawrence. It was now a gift from Washington to Billy.
Later, however, as Lt. Chaffee read Washington's stay of execution, Simcoe and the Queen's Rangers ambushed the camp. Simcoe entered the stockade and told Hewlett he had hoped they would execute him sooner. Hewlett stabbed Simcoe in the side with a knife given to him by Lt. Chaffee and escaped. A shocked and bleeding Simcoe vowed to kill Hewlett.
At Valley Forge, Washington later informed his major generals of the plan to retake New York. When General Lee reacted skeptically, Washington guaranteed that there were, at most, 3,500 British soldiers stationed in the city — intel he knew thanks to one of Abe's intelligence reports.
Lafayette, a French officer soon arrived and informed Washington that King Louis was impressed by Washington's victory at Saratoga and would like to form an alliance. That night, the Continental Army soldiers celebrated the alliance as Washington rode into camp with his men. As they dismounted, Washington watched as Arnold struggled to dismount from his horse with his injured leg.
Washington later informed Arnold that he'd being promoted to military commandant of Philadelphia. When Arnold fumed after realizing his new post did not involve going into battle, Washington noted that Arnold was not yet fit to return to the field because he was still recuperating from his leg injury. Washington then watched as Arnold angrily left the tent.
Later, in Washington's tent, Major Bradford, General Charles Lee's aide, briefed Washington on a plan to attack the British as they retreated to New York. Washington asked Lee if he endorsed the plan, given that he usually acted with caution. Lee admitted that he had learned from Washington's bold field tactics, and apologized for ever doubting Washington's leadership.
Outside, Ben tried to speak with Washington but was stonewalled. Billy Lee pulled Ben aside and warned him that Washington just gave control of half of the army to General Lee after Lee's apology.
Ben soon met with Bradford and told him that he wanted to offer up his dragoons to General Lee and apologized for their past disagreements. Bradford accepted Ben's offer, but reminded Ben that he would answer directly to him.
Later, in Setauket, Abe, now recently returned from prison after Hewlett's escape and return to Setauket, which led to him arranging for Abe to be released, went to his spy cave and found Anna there waiting for him. Abe soon applied invisible ink reagent to a note from Robert Townsend, who Abe had been trying to recruit to the Culper Ring without success. Abe learned that Townsend used proceeds from the sale of his boarding house to buy a coffee house that was popular with senior officers in the British army and government. Townsend reported that he has already learned of a plot against Washington.
After a struggle with Captain Simcoe's Queen's Rangers, Abe gave Caleb Townsend's note and urged him to deliver it to Ben and Washington right away.
Later, during the Battle of Monmouth, in New Jersey, Ben lead his dragoons into battle, only to realize that Lee had led them into a trap. Caleb arrived with Townsend's letter and warned Ben of the plot to harm Washington. Clinton and André watched from a hilltop as Redcoats fired on Ben's dragoons. As Simcoe lead his Rangers into the fray, Bradford ordered his men to fall back.
Ben yelled at Lee for pulling back instead of holding the line as Washington expected. To their surprise, Washington arrived with reinforcements and demanded to know why Lee was retreating. He ordered Lee to the rear, then barked out orders to attack the enemy. Clinton and André watched unhappily as the Patriots gained the upper hand and won the battle.
Back at camp, Ben and Caleb knocked Bradford unconscious. Soon after, in his tent, Washington told Ben that he knew about Lee's treachery thanks to the intelligence from agent 355 — Abigail. Ben informed Washington that Robert Townsend was their new contact in York City, and that Townsend already uncovered a conspiracy plot against Washington that included Bradford. Ben asked Washington's guard, Hickey, to bring Bradford to the tent.
Hickey went to the holding cell and readied his knife to kill Bradford, stating that they'd both be discovered, but Caleb emerged from the shadows and caught Hickey red-handed. Caleb soon arrived in Washington's tent to report that Hickey and Bradford had both been secured. Washington declared that as long as the Culper Ring remained secret, it was safe.
Back in Setauket, Rogers had captured Abe and held him in the spy cave, revealing that he knew the identity of everyone in the Culper Ring. He vowed to use Abe to get his revenge on André, for attempting to have him killed.
Later, Ben and Caleb are interrogated Bradford and Hickey about receiving money from Mr. Matthews and Governor Tryon. Ben asked who else in the camp was being paid off by the British and said that in exchange for information, the men would hang for counterfeiting instead. Hickey stated that he wished to be hanged for treason.
Bradford suggested that Ben trade them for Culper instead. General Washington offered to free the first man who disclosed the true name of Culper. When Hickey and Bradford didn't respond, General Washington realized that they didn't know that Culper was an alias. The next day, Bradford and Hickey were hanged, with Caleb acting as their executioner.
Benedict Arnold later rode into camp at Valley Forge, looking for General Washington. Ben directed him to Washington's tent, where Arnold fumed to Washington about the warrant against him and wondered how to shake the rumors of treason that have plagued him. Washington suggested that he apply for a court martial and restore his honor in court.
Townsend later overheard a conversation between Governor William Tryon, Mayor David Matthews, James Rivington and André, revealing that Reverend Worthington was a spy for Tryon and Matthews. Caleb later delivered this intelligence from Townsend to Ben about Reverend Worthington. They glared at Reverend Worthington as he sermonized to soldiers.
Ben soon brought the intelligence to General Washington and guessed that Reverend Worthington had been extracting information from soldiers under the guise of counsel. He offered to kill Reverend Worthington. Washington agreed. Ben later executed Worthington, while wearing civilian clothing. Ben was soon after captured by Lieutenant Gamble, but later managed to escape.
Discovering a counterfeit plot
Edit
Later, in General Washington's tent, Washington thanked Anna for all her sacrifices. She had left Setauket after finding no reason for herself to stay any longer. Anna teared up and offered to keep serving the ring. Washington nodded awkwardly.
Later, after Robert Townsend had discovered a British plot to print counterfeit money and devalue the Continental dollar, General Washington met with Ben and Caleb to discuss Townsend's report. Washington lamented that they received the message too late. Ben, Caleb and Anna discussed where to find the shovers and how to stop them. After the three realized the British plan, Ben, Caleb and others went to stop them, resulting in the death of Lieutenant Gamble.
When Ben and Caleb returned to camp, General Washington and Ben examined the counterfeit bills that they recovered in the Moodna Creek raid. Unable to discern any difference from legitimate bills, Washington decided to visit Philadelphia to convince Congress to recall all bills. He also decided to reduce the delivery time of Townsend's reports by eliminating the Setauket run and cutting Abe out of the Ring.
Arnold's treason
Edit
Later, at Penn Mansion, Arnold threw a lavish ball. Betsy Shippen candidly chatted with Becky Redman and an unidentified older woman. Arnold and Peggy Shippen welcomed Washington, Ben and Billy to the ball. Arnold asked to speak privately with Washington at a later point. Washington soon approached the older woman in Betsy's circle. To Betsy and Becky's surprise, their companion was Martha Washington.
When Arnold later met with General Washington in private, Arnold begged Washington to move up the date of his court martial so that he could quickly settle the accusations against him. Joseph Reed shortly after threatened to deny Washington's recall request if Washington helped Arnold. As Washington mulled over his dilemma, Martha playfully accused him of not wanting to be disliked by anyone.
After making a decision, General Washington informed Arnold that he would ask Congress to speed up the court martial process. Arnold thanked him profusely. Not long after, Washington danced with Peggy while Martha danced with Arnold. A flicker of unease crossed Ben's face as he watched everyone, not knowing that Arnold had written to John André.
Later, at General Washington's camp in Middlebrook, N.J., Washington read a report from Ben, reporting on the demise of the Ring. Ben asked to resign as head of intelligence, feeling that he had failed General Washington.
Elsewhere, in John André's parlor, General Clinton read a letter from Benedict Arnold requesting 10,000 pounds for his spy services. André strongly advised they take advantage of Arnold's financial desperation and recruit him. Clinton disagreed and upon further reading of Arnold's letter, gathered that Washington's camp was in Middlebrook.
General Washington refused to accept Ben's resignation and pointed out that they still have a spy, Abigail, in New York City.
Against André's advice, Clinton decided to send militia men, led by Governor Tryon, to raid Washington's camp. Abigail eavesdropped on their conversation. Soon after, Clinton's plan was discovered by Townsend, who brought the information to Abe and Caleb, who brought the information to Ben, who brought it straight to General Washington. Ben suggested that they attack the Stony Point garrison, figuring it will be undermanned while Tryon leads his Tory soldiers to Middlebrook. Ben and his men attacked the garrison, resulting in the Tory militia survivors surrendering. Ben and Caleb then raised the flag in victory.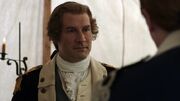 Later in General Washington's tent, Ben told Washington that he'd like to interrogate the prisoners to determine how the British discovered their camp's location.
Elsewhere, at the request of Ben, Anna went to New York City after she acquired a city entry pass from Major Hewlett. She visited Abigail at André's home and after catching up with Abigail, she was informed that that André enlisted a woman in Philadelphia to turn a Continental general. Abigail called Cicero into the room to reveal the general's identity: Benedict Arnold.
General Washington later arrived at West Point, now under the command of Arnold, with a small entourage, including Ben, Colonel Alexander Hamilton and the Marquis de Lafayette.
Arnold and Peggy Shippen welcomed General Washington into their home. During a conversation, a soldier soon delivered a dispatch to Arnold from "John Anderson" (André's code name). Washington insisted a flag of truce "is always of import." Arnold dismissively read the letter aloud, then tossed it in the fire.
General Washington, Arnold and Lafayette later discussed military strategies. Arnold asked Washington to prolong his stay at West Point so that he could discuss a potential strategy. Ben offered to investigate cannon fire from the previous night but Arnold declined his offer. Washington quietly gave Ben the go-ahead to investigate.
At Colonel John Jameson's outpost, Jameson informed Ben that skinners brought him a man by the name of John Anderson, who was carrying plans of West Point in Arnold's handwriting. Ben deduces Arnold's treachery and raced back to West Point.
Not long after, Arnold read a report from Colonel Jameson and abruptly excused himself from Washington's company. Arnold soon fled, having been discovered as a traitor after the capture of André. Soon after, Caleb barged into Arnold's residence and informed Washington of Arnold's treason. Ben made an attempt to capture Arnold, but failed to do so.
Colonel Hamilton soon informed General Washington that Arnold had escaped on the HMS Vulture. After Washington was informed of Arnold's escape, Peggy screamed upstairs. Washington, Ben and Hamilton arrived upstairs and found Peggy in a disheveled state. She screamed that spirits had taken Arnold. Washington called for a doctor.
Later, in General Washington's tent, John André described his correspondence with Arnold to Washington and Ben, and said that Arnold acted alone. André requested a fresh uniform from his home and asked that he be executed by firing line rather than hanging, which was reserved for spies. Washington agreed to consider his request.
Elsewhere, General Clinton brought Arnold to André's home for temporary lodging. A courier then delivered a dispatch from General Washington. Clinton read Washington's dispatch and announced that André was to be tried as a spy, not an officer, as well as mentioning that Washington also proposed trading André for Arnold.
General Washington met with Ben, Anna Strong and Caleb Brewster to assess their chains of intelligence. Anna insisted they emancipate Abigail, though Washington contended that she might still prove valuable if transferred to another royal officer. Ben urged Washington to hang André to restore trust among their soldiers, but Washington argued that André was merely doing his duty as an officer. Ben also urged Washington to bring Abe in, but Washington refused. To illustrate Abe's usefulness, Washington pointed out that Abe had survived as a spy for years whereas Nathan Hale and André were both caught on their first mission.
At André's trial, the board determined that he was a spy and would be punished by death. Afterwards, General Washington showed Ben a letter from Arnold in which he threatened to harm American prisoners. General Washington later attended André's hanging, alongside Ben, Hamilton, Lafayette and numerous others.
Aftermath of Arnold's treason
Edit
"His hunt has just begun."
"He will be the hunted. We will lure him out of the city and kill him."
"No. I will not lower us to assassination. He must be captured alive and returned to camp."
―George Washington and Alexander Hamilton discuss Benedict Arnold.
Ben and Hamilton later met with General Washington at the Continental Army camp in New Windsor, New York. They reviewed a list, published in the Gazette, of 40 men that Arnold arrested for possible spy activities. Ben asserted that Arnold was putting on a show and didn't have hard evidence on Mulligan. He also mentioned that Arnold wrote him a letter to try and convince him to turn. Surprised by Ben's disclosure, Washington ordered Ben to submit a full report on how to capture Arnold.
Ben and Caleb later requested permission from Washington to lead a mission to destroy the British hay supply in Setauket. Initially, Washington questioned Ben's methods, presumably due to resentment over Ben not immediately divulging the receipt of Arnold's letter. But, after Ben stood firm in his commitment to Washington, the General approved the mission, which ended up being successful.
Caleb's capture and return
Edit
Later, Continental soldiers saluted General Washington as he walked through camp. Soon after, a soldier grumbled to another soldier an insult about General Washington. Soon, a recently arrived man named Mr. Betters informed Washington and Ben of that Caleb had been abducted in Connecticut.
"You quarrel over disrespect to me, but in doing so, you disrespect yourselves and this army!"
―George Washington to two fighting soldiers.
Washington asked Ben why Caleb was in Connecticut. Ben explained that Caleb sold goods on the London trade to provide cover for his trips to Setauket. Ben guessed that Arnold arrested Caleb because he knew that Caleb and Ben were close associates, but he doubted that Arnold knew anything about Culper Sr. or Culper Jr. Washington demanded a full report on all remaining assets by the morning. Washington soon broke up a fight between the two grumbling soldiers in camp. One of the soldiers then complained to Washington about not getting paid.
Later, in bed, Washington told his wife Martha that he felt responsible for his bankrupt army. He worrieed that his tactic against the British — outlasting them until their finances were sapped — was backfiring. Martha offered to enlist help from Congressmen's wives to raise money for the colony, in an effort to organize women across the country. They then kissed.
Later, Washington banished a woman named Hester from the camp to make an example of her refusal to work. Anna then spoke to Martha and asked her to help Hester, but Martha insisted that everyone must do what they can. Anna then sought help for Hester from Ben, but he defended Washington's decision. Camp followers later gathered to watch a wagon transport Hester and her baby out of camp.
Caleb was later recovered after a trade that went wrong, resulting in the death of Woodhull's father, Richard, as well as multiple Continental Army soldiers.
After being brought to the Continental camp, Woodhull told Ben that he no longer wanted to spy for the Culper Ring.
Ben then told General Washington that Abe wanted to quit the ring. Washington ordered Ben to change Abe's mind. Ben then said that a meeting with Washington would help persuade Abe, but Washington refused to risk exposure. Washington demanded an update on the hunt for Benedict Arnold. Ben then informed him that they had no intelligence on Arnold's movements in the city and that they couldn't use Culper Jr., as he had been silent for weeks.
Later, a group of disgruntled Continental soldiers met in secret to plan a march against Congress in Philadelphia to demand their earned wages. They left camp and killed a sentinel who tried to stop them.
General Anthony Wayne lead a detachment of Continental soldiers to stop the mutineers. The mutineers chanted that they were not Arnolds. Wayne dispatched a rider to speak with the mutineers.
In the New Windsor barn, Caleb told Abe that Washington was running a mission to capture Arnold in York City. Abe then said that he had a proposal for the General.
General Wayne later informed Washington that he negotiated successfully with the mutineers and that most of them would be discharged. He suggested that they punish the 10 officers who led the mutiny by hanging.
The mutiny leaders were soon tied to posts and blindfolded. As the camp watched, General Wayne ordered a group of the mutinous soldiers to be the ones to fire. General Wayne forced the soldiers to stand within only a few feet of the officers and shoot them point blank. The soldiers vomited after the execution.
Ben then stormed into his tent and complained to Caleb that the defection was tearing the army apart. Caleb then informed Ben that Abe wanted to discuss the Arnold mission.
In the barn, Abe told Ben that he could provide intelligence on Arnold's movements in the city.
Ben met with Washington and proposed that Abe enlisted in Arnold's unit as a way to track his movements. He cited Rivington's sensationalized article in the Royal Gazette that rampaging rebels killed his father and said that his desire for revenge against these "rebels" was the perfect motivation to join Arnold's new unit. He revealed to Washington that Abe's real motive was to kill Simcoe, whose knowledge of the ring threatened everyone as long as he was alive.
Ben then told Abe that Washington approved the mission but that Abe must wait until Arnold has been captured before killing Simcoe. He instructed Abe to tell Townsend of their mission and then await further instruction from a rebel messenger, who will use the phrase, "I miss the summer of '73." Abe then left to return home and bury his father before his mission began.
Later, General Washington met with Selah Strong, who asked him to bring his concerns to Congress, but General Washington worried that he would be overstepping his bounds.
Disagreement with the French
Edit
General Washington later met with French General Comte de Rochambeau and tried to convince him that they should attack York City to cut off General Clinton and the British supply route, rather than attack the south, which was more vulnerable. The French disagreed, but on friendly terms.
"If Arnold is in Virginia, that means that Clinton still resides in New York, the seat of power, and therefore still the prize. This army must maintain its readiness to invade."
―George Washington informing his generals of his plan.
Later, General Washington's generals proposed a counterattack against Arnold in the south. Washington agreed to send Marquis de Lafayette but otherwise refused to abandon York City. Washington proclaimed that he was offering 5,000 guineas to whomever brought Arnold down.
General Wayne later urged Washington to send his men south but Washington refused to abandon York City. Once the other commanders left, Ben pointed out that everyone except Washington believed it better to strike in the south and accused Washington of acting self-centered. Washington bristled and ordered Ben to leave and turn over all intelligence to Hamilton.
Victory at Yorktown
Edit
Later, General Washington informed his generals that he was sending the army south to rendezvous with the French fleet but intended to make General Clinton believe that they were still attacking York City. He then said that he decided to abandon York City after Lafayette received intelligence, which was from Abe, that General Cornwallis was vulnerable in Yorktown. Ben then said that he had a plan to convince Clinton that they were still attacking York City without moving a single soldier.
With the help of Anna and Mary Woodhull, Ben wrote a letter that was passed on to Clinton through Ann Bates, a British spy, causing Clinton to fall for the diversion.
Later, in Yorktown, Washington convened with his generals and devised a plan to defeat the British in Yorktown by using the enemy's own entrenchments and overtaking the redoubts.
On the battlefield that night, Ben ordered the Allied forces to reinforce the British entrenchments at Yorktown while fighting the British. After some of the soldiers were hesitant to begin digging, General Washington himself picked up a shovel and helped with the plan. He then looked on at the British as they fired upon them. The next day, the Allied forces advanced on the British redoubts at Yorktown.
The French fleet advanced on the British fleet near Yorktown. British ship captains consulted their signal books and communicated with each other using incorrect flags, as a result of Townsend's sabotaging the signal books. The French bombarded the confused British ships.
The battle at Yorktown continued on October 9, 1781. Abe helped fortify the trenches amid heavy gunfire while Anna brought water to soldiers. Abe then glimpsed Washington giving orders nearby.
Ben later informed Washington that the British were low on munitions powder, that they had enough for a march, but not for a siege. Washington capitalized on this weakness by planning an attack on the redoubts that night.
That night on October 11th, Allied forces – Ben, Caleb, and Hamilton among them – stormed the British redoubts at Yorktown and overtook them in a ruthless battle. They seized control of the British cannons and fired them on the British forces in town.
In the morning, the British waved a white flag of surrender.
"Nearly four years ago to this day, General Gates accepted General Burgoyne's sword at Saratoga. Today, the American and French alliance is honored...to accept yours."
―George Washington to a British commanding officer.
Later, in Surrender Field, the British army marched through a gauntlet of Continental and French forces to a drumline. Lafayette ordered the Allied musicians to play "Yankee Doodle." A British commanding officer presented Cornwallis's sword to Washington. Washington then said that he was honored to accept their surrender. The British soldiers dropped their guns as they marched away while the Allied forces looked on.
Later, crowds cheered for Washington as he rode down the streets of Philadelphia. Eventually, Abe unsuccessfully tried to grab Washington's attention at a parade in York City in attempt to gain compensation for his efforts during the war.
Washington soon stopped by Rivington's Corner and forgave Rivington for publishing sensationalist Loyalist articles that targeted him and his wife. Washington then handed Rivington an opinion from before the war: an article written by Rivington stating that his newspaper was open to all parties. Rivington then said that this was before the Sons of Liberty destroyed his printing press and home. Washington then encouraged Rivington to return to his impartial journalistic roots by keeping the new government in check. Washington later pardoned Akinbode and Cicero after receiving word from Abe.
Later, Abe cleaned tables at Dejong Tavern. Caleb paid him a surprise visit and brought him outside, where they were greeted by Ben, Anna, Selah, and, finally, Washington himself. Selah announced that he and Anna were moving to Connecticut. Washington arranged a dinner to honor Abe, much to the surprise of the townspeople.
Washington, Abe, Ben, Anna, Caleb, Mary and Selah then dined together. Caleb announced that he had a fiancé and that Ben had met a woman. Mary then excused herself to put Thomas to bed. Washington called a toast for the Culper Ring. Abe then said that he was appreciative of the recognition, but only required recompense. Selah excused himself, leaving only the Culper Ring members. Anna proposed a toast to the other members not present: Townsend, Nathaniel Sackett, Abigail, Cicero and Judge Woodhull. When Washington pointed out that members of the ring served for selfless reasons, Abe maintained that his farm suffered during his work as a spy and that he didn't qualify for veterans pay. Washington then asked to speak privately with Abe.
Alone, Abe and Washington bonded over discussion of growing cabbage. Washington then wrote a personal check to Abe to cover his expenses. Abe initially refused since it was Washington's own money, but Washington said that he had learned the hard way that failure to settle accounts could turn friend into foe. Washington then said that Abe was owed much more, and said that the country owes its life to people whose names will never be known.
Presidency (1789–1797)
Edit
George Washington became the first President of the United States in 1789. Later, after slavery was abolished in the Canadian province that Simcoe governed Washington forced the slave boats to be turned around, unknowingly preventing Abigail from reuniting with Cicero and Akinbode in Nova Scotia.
Characters met
Edit
Relationships
Edit
Edward Braddock
Edit
"General Braddock was a man of fine qualities."
―George Washington speaking of Edward Braddock.
As a Colonel during the French and Indian War, George Washington fought alongside General Edward Braddock. During the Battle of the Monongahela on the Braddock expedition, General Braddock was wounded after an ambush and later died from his wounds. Before he died, General Braddock gave Colonel Washington a short blade, asking him to lead the troops. General Braddock was later buried and given a memorial by Colonel Washington.
Colonel Washington was later ordered to ship all of Braddock's belongings to General Johnson, including the blade that he had received. The blade was later taken by Robert Rogers and held until 1775, when it was returned to a Washington, who had become a General and Commander-in-Chief of the Continental Army.
Caleb Brewster
Edit
Alexander Hamilton
Edit
Gilbert du Motier, Marquis de Lafayette
Edit
Billy Lee
Edit
Charles Scott
Edit
Benjamin Tallmadge
Edit
General Washington first met Captain Benjamin Tallmadge in 1776 after efforts from Captain Tallmadge, as well as Lieutenant Caleb Brewster, Abraham Woodhull and Anna Strong led to information being gained by the Continental Army to assist in a victory at the Battle of Trenton. The four had been acting as a ring of spies to assist in the gathering of intelligence for the Continental Army.
General Washington met with Captain Tallmadge, General Charles Scott and Nathaniel Sackett to discuss the formation of a spy ring. Despite the meetings beginning with conflicting opinions, the Culper Ring was formed, with General Washington promoting Captain Tallmadge to Major. General Washington frequently met with Major Tallmadge to discuss various intelligence gatherings and to give him new orders.
The two would sometimes come in conflict with each other, with Major Tallmadge even going as far as offering his resignation in 1778 after the Culper Ring has broken down, but General Washington refused his resignation and the Culper Ring would soon be back to full strength, providing General Washington with information about Benedict Arnold's treason. Though Arnold escaped, John André was discovered as having had contact with and holding information given to him by Arnold and was hanged as a spy.
Nathaniel Sackett
Edit
Anna Strong
Edit
Lawrence Washington
Edit
Martha Washington
Edit
"My beloved."
―George Washington to Martha Washington.
On January 6, 1759, Washington married Martha Dandridge Custis. During the American Revolutionary War, the two were apart due to General Washington leading the Continental Army. They were reunited in 1778 for a ball at Penn Mansion in Philadelphia. During their reunion, they shared multiple conversations about various events that were occurring at the time and also shared a dance together.
John André
Edit
General Washington and the Culper Ring went against Major John André on multiple occasions. It was a plan of André's that led to Lieutenant Gamble killing Nathaniel Sackett in 1777. Gamble was later killed by Benjamin Tallmadge and Caleb Brewster in 1778.
It was also a plan of André's that led to Benedict Arnold's turn against the Continental Army in 1778. After Arnold was discovered, André was captured and taken to General Washington, where the two had a discussion.
André was later given a trial and was sentenced to be executed as a spy. Though André had requested to be executed by firing squad, he was later hanged. General Washington was present at the hanging.
Benedict Arnold
Edit
Robert Rogers
Edit
Behind the Scenes
Edit
"His choices were life and death, not simply easy choices that had very little effect."
―George Washington, as described by Ian Kahn.
George Washington was portrayed by Ian Kahn in Seasons 1, 2, 3 and 4 and by Bryan Adrian in a flashback in Season 2 of Turn: Washington's Spies.
Appearances
Edit
Description
Edit
"This is not the George Washington we are used to seeing on the dollar bill. A 44-year-old general in charge of the Continental Army, he is a detail-oriented perfectionist who is well aware of his shortcomings. Washington is hard on himself as a leader, carefully presenting an image of strength and confidence to a ragtag army lacking those qualities themselves. A man of strong emotions, Washington has learned to restrain himself through sheer strength of will and tries to instill the same discipline in his army and his country. Knowing the fate of the revolution hinges on an alliance with the French, Washington focuses on the bigger picture and keeps his own counsel, which often creates conflict with his spymaster, Ben Tallmadge."
―Official description
"This is not the George Washington you're used to seeing on the dollar bill. This is Washington in his mid-40's, a detail-oriented perfectionist in charge of the Continental Army. A man of strong emotions, Washington has learned to restrain himself through sheer force of will, and tries to instill the same discipline in his ragtag army and the fledgling country. In season two, we saw a Washington, who was hard on himself as a leader, well aware of his shortcomings as he privately battled them. Washington's insistence on keeping things close to the vest brings him into conflict with Ben Tallmadge, who doesn't understand why Washington won't act against the traitorous General Charles Lee. But Washington is playing the long game, upholding the appearance of unity in the ranks in order to ensure the assistance of the French. It is only at the Battle of Monmouth, when Washington vanquishes Lee and triumphs over the British, that Ben comprehends the extent of Washington's cunning. Washington faces a new series of challenges in the third season, from the infighting of Congress to the collapse of the currency he uses to pay his soldiers. But the greatest threat to Washington is the one closest to him -- the betrayal by his close friend Benedict Arnold."
―Official description
"This is not the George Washington you're used to seeing on the dollar bill. This is Washington in his mid-40s, a detail-oriented perfectionist in charge of the Continental Army. A man of strong passions, Washington has learned to restrain himself through sheer force of will, and tries to instill the same discipline in his ragtag army and the fledgling country. In Season 2, Washington's insistence on keeping things close to the vest brought him into conflict with Ben Tallmadge, who didn't understand why Washington wouldn't act against the traitorous General Charles Lee. But Washington was playing the long game, upholding the appearance of unity in the ranks in order to ensure the assistance of the French. It was only at the Battle of Monmouth, when Washington vanquished Lee and triumphed over the British, that Ben comprehended the extent of Washington's cunning. Washington faced a new set of challenges in the third season, from the infighting of Congress to the collapse of the currency he used to pay his soldiers. But the greatest threat to Washington was the one closest to him—betrayal by his close friend Benedict Arnold. This betrayal has caused Washington to withdraw, growing cold and paranoid as Season 4 begins. He won't rest until Arnold is captured, tried, and hanged for treason. The only one who seems to be able to get through to him is his wife, Martha, but her visits are few and far between. Washington has to let go of his anger and guilt in order to finally recognize the path toward victory."
―Official description
Links and references
Edit
External links
Edit