Jurassic World: Dominion Dominates Fandom Wikis - The Loop
Play Sound
Houses Divided
---
---
---
---
| | |
| --- | --- |
| Original airdate | May 11, 2015 |
---
Nielsen rating
18-49 rating:
0.20
Viewers (million):
0.74
---
---
---
---
Mary pleads with Richard to help free Abe from prison. Anna must seduce Simcoe. Ben and Caleb plot to rescue Hewlett from his captors.
Summary
At Whitehall, Captain Wakefield delivers a letter to Richard from Inspector Yates, the warden from Abe's sugar house prison. The letter says Abe has been imprisoned for treason, and that he is claiming to be a spy for Hewlett. After Wakefield leaves, Richard accuses Mary and Anna of knowing Abe is a rebel spy, and orders Anna to leave Whitehall immediately.
Anna rushes to Abe's root cellar spy cave. Using the invisible ink Ben provided, she writes an encoded letter to Ben on the title page of a book, alerting him to Abe's arrest. She also divulges that Abe has been pretending to spy for Hewlett in order to ensure safe passage to York City.
In Valley Forge, Ben tells Caleb that Washington has fired him as head of intelligence for allowing Abe to "go rogue." Ben and Caleb decide to rescue Hewlett on their own so Hewlett can exonerate Abe.
At the sugar house prison in New York City, Yates informs Abe that Hewlett was kidnapped by rebels, and orders Abe to confess. Abe maintains his innocence, and asks Yates to contact Richard for corroboration. Yates throws Abe back into the community cell and tells the other inmates that Abe is faithful to King George. The inmates beat Abe up for being a Tory.
Jordan reunites with Cicero at DeJong Tavern and learns that Abigail is in Philadelphia. Cicero mentions he sends Abigail packages, "Though they ain't really from me." Realizing he's revealed too much, he covers by saying Anna writes his letters to Abigail for him.
Anna arrives at the tavern and asks Cicero to move her things into an empty room. Simcoe carries her trunk to his own room (formerly Anna's), and insists she take his place there. She firmly declines, calls Simcoe half the man Hewlett is, and declares that because she will never love him, if he wants her, he'll have to take her by force. Simcoe grabs Anna by the neck and shoves her against the wall, then releases her. "You've wronged me, madam," he says.
In Philadelphia, after escorting her there from the Shippen mansion via back-alleys, Abigail ushers Peggy into Benjamin Franklin's house, where John André is waiting for her. André plays Peggy an original song he wrote for her on his flute, and calls her his muse. They're interrupted by the arrival of Lt. Gamble, the Redcoat who posed as Lt. Sutherland at Valley Forge before killing Nathaniel Sackett and escaping with a cache of Sackett's documents.
As André looks through Gamble's take, Gamble mentions being interrogated by Ben, and notes that the Continentals know André is the head of army intelligence. André peruses a letter in which Samuel Culper (Abe) accurately describes the Royal Navy's strength in New York Harbor. He deduces that Culper must live on Long Island, and decides to have Simcoe hunt him down.
After dismissing Gamble, André goes to his bedroom, where he finds Peggy waiting for him.
Mary stops by DeJong Tavern to beg Anna to ask the rebels to rescue Abe. Anna tells her she already wrote to them, and hasn't heard back. Mary suggests Anna give in to Simcoe's advances if he'll agree to rescue Hewlett, and Anna agrees on the condition that Mary ask Richard to help exonerate Abe.
André gives Abigail a new package from Cicero: Sackett's toy boat. In her room, Abigail finds and reads the hidden note from Ben. She re-hides the note in the boat and places it on her desk.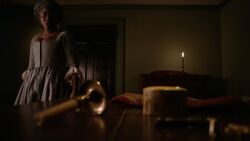 Later, Abigail panics when she returns to her room and discovers the boat missing. She finds it on the dining room table downstairs, and is relieved to learn from Peggy that the cook's son was playing with it. Peggy confides to Abigail that she received a response to a letter she wrote to another man to with André's knowledge (the man is Benedict Arnold, but Peggy does not mention Arnold's name to Abigail), worried that the letter's tone will make André jealous. Abigail reassures Peggy that André values honesty, and will not think less of her for sharing the letter with him.
Anna visits Simcoe in his room and apologizes for belittling him. She then tells Simcoe she and Hewlett have become romantically involved. Taking Simcoe's hand, she asks Simcoe to rescue Hewlett, and offers herself to him in return. Simcoe refuses, insisting he's not "a monster," and says he doesn't have time to go after Hewlett because he's been tasked with finding a rebel spy.
At Whitehall, Mary implores Richard to use his influence to get Abe out of prison. When Richard refuses, a frustrated Mary says she still loves Abe despite all that he's done — and blurts out that they burned down their house after Abe shot and killed Lt. Baker. She accuses Richard of lacking principles, and tells him he serves the king only because the king seems like the safest bet. "You need to choose between your pride and your family," she pleads.
While in bed together, Peggy reads André the letter that Benedict Arnold wrote to her. André mocks Arnold's flowery prose describing Peggy's beauty.
Downstairs, Abigail pretends to dust the parlor while trying to get a glimpse of the stolen Sackett documents on André's desk. André walks in, surprised to find her working so late at night, and Abigail covers by saying she didn't feel right going to bed with things looking untidy. André then thanks her for her discretion with Peggy and, as repayment, invites Cicero to come and live with them. Abigail is overjoyed.
By the Setauket waterfront, Simcoe encounters Anna and informs her he is going to Connecticut to rescue Hewlett after all. In return, he asks her to kiss him. In full view of several townspeople, she reluctantly obliges. Richard witnesses the kiss and reacts with disgust.
As they walk to their boat, Simcoe tells Jordan they're not going to Connecticut to rescue Hewlett — they're going there to kill him.
Quotes
Credits
Cast
Starring
Also Starring
Adam J. Harrington

as Lieutenant Gamble

Stuart Greer

as Officer

Yates
Co-Starring
Crew
Opening credits
TURN: Washington's Spies
Closing credits
Co-Producer

Aïda Mashaka Croal

Co-Producer Alexander Rose
Associate Producer

Erin Mitchell

Executive Story Editor LaToya Morgan
Unit Production Manager

Henry Bronchtein

First Assistant Director

Frank Ferro

Second Assistant Director

Caroline Stephenson

Virginia Casting by

Erica Arvold

, CSA
Virginia Casting Associate

Jen Ingulli

, CSA
Costume Desinger

Dona Zakowska

Production Supervisor

Kate Amer

Art Director

Richard Blankenship

Set Decorator

Catherine Davis

Property Master

Kelly Farrah

Head Hair Stylist

Ardis Cohen

Head Make-Up Artist

Ashley Fetterman

Location Managers

Becky Beckstoffer

,

Tom Trigo

Assistant Location Manager

Josh Mumford

Production Coordinator

Christina Garnett

Assistant Production Coordinator

Max Eberle

Production Accountant

Marjorie Leder

Special Effects Coordinator

Ray Bivins

Assistant to Craig Silverstein

Jennifer Barackman

Script Coordinator

Scott Gunnison Miller

Writer's Assistant

Elizabeth Friz

Writer's Production Assistant

Jake Burnstein

LA Casting Associate

Kendra Shay Clark

, CSA
Production Sound Mixer

William Britt

Re-Recording Mixers

Dan Hiland

,

Gary Rogers

Supervising Sound Editor

George Haddad

Music Supervisor Thomas Golubić
Music Consultant

Tony Berg

Music Editor

Chris McGeary

Post Production Supervisor

Brandon Krzyminski

Post Production Coordinator

Ky Reeves

Post Production Assistant

Robert Conchas

VFX Supervisor

Jon Massey

On Set VFX Supervisor

Terry Windell

VFX Producer

Casey Conroy

Assistant Editor

Nick Towle

Production Services Provided by Stalwart Films, LLC
Visual Effects by FuseFX
Post Production Sound Services by Warner Bros. Post Production Services
Digital Dailies

Rex Teese

High Definition Post Production ArsenalFX Color
Main Title Design by Shine
Main Title Theme "Hush" by

Joy Williams

,

Charlie Peacock

&

Matt Berninger

Performed by Joy Williams & Matt Berninger

Filmed with ARRI Cameras and Lenses
Special Thanks to The Commonwealth of Virginia, Virginia Film Office, Virginia Department of Corrections
Appearances
By type
Characters
Events
Locations
Organizations and titles
Sentient species
Miscellanea
Links and references
External links