Mr. Culpeper
---
---
---
---
| | |
| --- | --- |
| Original airdate | May 11, 2014 |
---
Nielsen rating
18-49 rating:
0.40
Viewers (million):
1.08
---
---
| | |
| --- | --- |
| Directed by | Eagle Egilsson |
---
---
En route to New York, Abe is ambushed by a desperate patriot. Washington charges Ben with the task of creating America's first spy ring.
Summary
An unidentified man sits at a desk and writes on a leaf of paper. "Scenario 37: Agent to agent transfer," he begins.
In an imagined scenario, Abe enters a British officers' retreat. An agent disguised as a British officer furtively hands a hard-boiled egg to Abe.
Outside, Abe slips the egg into a full basket of eggs. A Redcoat abruptly stops him, demands to buy an egg, and grabs the basket. Some of the eggs drop to the ground and crack, including Abe's egg. Spotting a secret message written on the hard-boiled egg, the soldier seizes Abe, and Abe is killed in the struggle.
The unidentified man crumples the paper. "Try, try again," he mutters.
In a field, British and American soldiers peacefully exchange POWs. The group of Redcoat POWs includes Simcoe, who limps toward a waiting carriage.
At his Morristown headquarters, General Washington dictates a letter to General Howe indicting the barbaric treatment of Continental prisoners aboard the prison ships in New York Harbor.
As Ben and General Scott await Washington, Scott looks forward to hearing how Washington will punish Ben for insubordination. Washington arrives and together they watch a soldier get hanged for robbery, making clear that Washington does not suffer rule-breakers.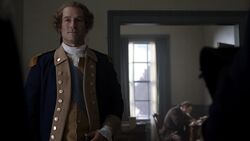 Washington arrives and introduces Ben and Scott to the unidentified man who was writing the spy scenarios: Nathaniel Sackett, of the Committee to Detect and Defeat Conspiracies Against America. Sackett praises the accuracy of Abe's intelligence. Washington asks if such intelligence can be gathered again.
Driving a horse-drawn cart, Abe pulls up to a Long Island checkpoint and tells a British officer that he's delivering hogs to Colonel Cooke at the commissary. The officer waves him through, but warns him that because of the recent rebel victories, other checkpoint officers may be wary of lone travelers.
Back at Washington's headquarters, Scott insists that intelligence should only be gathered by trained soldiers. Sackett disagrees, believing civilians make more discreet spies. Washington orders Scott, Sackett and Ben to explore the viability of Ben's "spy chain" idea and come back to him with a recommendation.
As he travels through a woodland stretch between checkpoints, Abe passes a single Redcoat walking down the road. Hearing what sounds like gunfire, Abe leaps from his seat and takes cover behind the cart. "Don't worry -- I got ya," the Redcoat says, as he points his gun at Abe. The soldier pistol whips Abe, tosses him in the back of the cart, and hijacks it. As they trot away, they pass the source of the gunfire sounds: exploded casks of gunpowder in a small campfire.
As Abigail sets the table at John André's residence, André wraps his arms around her to demonstrate European table-setting and eating customs. The former POWs arrive as André's houseguests, and Abigail holds her breath as she recognizes Simcoe among them. André asks Abigail to show the men to their rooms.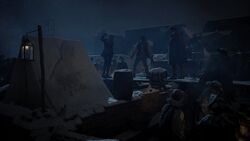 In New York, Jordan and other Black Pioneers rake up debris from a large fire at the "Holy Ground" brothels. Titus and Barney, both Queen's Rangers and free blacks, stroll up. "Liberty never smelled so sweet," Titus says as he kicks Jordan's pile of debris over. When Jordan confronts him, Titus punches him in the face. Jordan snaps his rake into two fighting sticks, and the three square off.
Jordan briefly holds his own with some exotic fight moves, but as Titus and Barney gain the upper hand, a sharp whistle from Robert Rogers interrupts the brawl. Rogers questions Jordan about his fighting technique, and Jordan says he trained as a Maasai warrior. Rogers offers to set up a one-on-one fight between Titus and Jordan that the men can bet on.
Ben describes his spying methods to Sackett, who is shocked to learn that Ben hasn't been using dead drops or encryption. Sackett explains that Continental agents should be paid from a secret budget unknown to Congress. Scott refuses to sign off on the spy chain method.
Abe is interrogated by his captor, Cyrus, who turns out to be a lone wolf Continental soldier. When Cyrus grills Abe for details about his business in New York, Abe insists that he's actually a Continental spy. Cyrus doesn't believe him.
Outside headquarters, Sackett tells Ben that Abe needs an alias to correspond with other agents. Ben says Abe will quit if forced to work with strangers. Sackett hands Ben an egg that he's hard-boiled then written on with alum and vinegar. Ben cracks it open and finds the message, now invisible on the eggshell, is legible on the surface of the egg.
André interviews one of the former POWs, Lt. Terrence, about his time in captivity. Terrence is in fact an agent from one of Sackett's scenarios: He is one of Washington's spies.
André next interviews Simcoe, who calls Setauket a pit and badmouths Major Hewlett. André offers to transfer Simcoe, but Simcoe says he'd like to return to a woman he met in Setauket. Abigail eavesdrops as she delivers drinks.
In the woods, Cyrus demands Abe tell him why, if he's such a Patriot, he didn't join the militia. "Because you can't win," Abe replies. Cyrus begins to have an emotional breakdown and insists Abe fight him for the ribbon and papers that will allow Abe to get to New York. "Prove you're worth more," Cyrus snarls.
As they struggle, they're interrupted when a small group of Redcoats discovers Abe's wagon. Cyrus attempts to flee but is quickly surrounded. Cyrus rushes the Redcoats, and they shoot him dead.
André entertains the POWs at dinner. As André proposes a toast, Terrence incorrectly recites his regiment's motto. Abruptly, Simcoe draws a knife, stabs Terrence dead through the neck, and declares Terrence a liar and likely spy. "I know that!" André screams. Seething with anger, André says he planned to try to turn Terrence into a double agent. Abigail, standing just outside the dining room, listens in.
Washington reconvenes with Ben, Sackett and Scott. Scott insists on continuing to use traditional reconnaissance methods. Ben disagrees and tells Washington that his spy chain will work, but only with mutual trust, which they currently lack. He again asks how Washington obtained Abe's name. Washington asks to speak with Ben alone.
Jordan and Titus fight on a stage. The crowd cheers as Jordan uses his Maasai moves to win the fight. Afterwards, Rogers welcomes Jordan into the Queen's Rangers.
As Jordan walks away, Awasos pushes throughout the crowd. Speaking in Abenaki, he tells Rogers that a man who knows Ben Tallmadge has come forward and reported that Ben's brother, Samuel, is being held on board the prison ship Jersey.
Washington finally tells Ben that he obtained Abe's name from one of his spies: Nathan Hale, who was Ben's friend at Yale and recently hanged by the British. He then gives Abe an alias: Mr. Culpeper.
Abe tells one of the Redcoats that Cyrus was wearing Abe's clothes because he was planning on assuming Abe's identity and escaping into the city. The Redcoat tells Abe that lone travelers are no longer being allowed into New York and that Abe cannot continue on alone.
As Abigail cleans up Terrence's blood, she mentions her son's birthday to André. Showing kindness in the wake of the murder, André offers to send a gift via special courier if Abigail picks it out.
After assigning Scott to the war front, Washington promotes Ben to Major and puts him in charge of the intelligence branch. Washington asks Ben to pick a first name for Mr. Culpeper. Ben chooses Samuel.
Quotes
Credits
Cast
Starring
Also Starring
Co-Starring
Jason Musick as Washington's Life Guard

Chris Jai Alex

as Titus

Ryan Ladue

as Lt. Terrence

Craig Trow

as

Wellings

Stephen Adkins, Jr.

as

Awasos

Mark Irvingsen

as British Soldier

Keith Tyree

as Provost Marshal
Alex Miller as Washington's Aide-de-Camp

Aaron Logan Mauck

as Sick Soldier (uncredited)

Jackson Beals

as Surgeon (uncredited)
Crew
Opening credits
TURN
Closing credits
Co-Producer Mitchell Akselrad
Co-Producer

Aïda Mashaka Croal

Associate Producer

Jim Hilton

Executive Story Editor LaToya Morgan
Unit Production Manager

Larry Rapaport

First Assistant Director

Jason Ivey

Second Assistant Director

Caroline Stephenson

Virginia Casting by

Erica Arvold

, CSA
Costume Designer

Donna Zakowska

Production Supervisor

Kate Amer

Art Director

Richard Blankenship

Set Decorator

Catherine Davis

Property Master

Kelly Farrah

Head Hair Stylist

Ardis Cohen

Head Make-Up Artist

Ashley Fetterman

Steadicam/A Camera Operator

Chris Haarhoff

B Camera Operator

Jim Contner

Special FX Coordinator

Ray Bivins

Stunt Coordinator

Kid Richmond

Assistant Production Coordinator

Allison Carroll

First Assistant Accountant

Melinda Reynolds

Gaffer

John Priebe

Key Grip

Charlie Harris

Construction Foreman

Jimmy Lee Carmickle

Best Boy Electric

Wade Tyree

VA Casting Associate

Michelle Kelly

LA Casting Associate

Kendra Shay Clark

, CSA
Production Sound Mixer

William Britt

Re-Recording Mixers

Aaron Levy

,

Ethan Beigel

Supervising Sound Editor

George Haddad

Music Supervisor Thomas Golubić
Music Consultant

Tony Berg

Music Editor

Chris McGeary

Post Production Supervisor

Christina M. Fitzgerald

Post Production Coordinator

Michael Prosetti

Post Production Assistant

Mark Torres

VFX Supervisor

Christian Cardona

On Set VFX Supervisor

Brad Kalinoski

VFX Producer

Andy Simonson

Assistant Editor

Tom Runquist

Production Services Provided by Stalwart Films, LLC
Visual Effects by LookFX, Inc.
Post Production Sound by Todd-AO Studios
Digital Dailies

Rex Teese

High Definition Post Production ArsenalFX Color
Main Title Design by Shine *Main Title Theme "Hush" by

Joy Williams

,

Charlie Peacock

&

Matt Berninger

Performed by Joy Williams & Matt Berninger

Filmed with ARRI Cameras and Lenses
The Commonwealth of Virginia, Virginia Film Office, Virginia Department of Corrections
Appearances
By type
Characters
Events
Locations
Organizations and titles
Sentient species
Miscellanea
Links and references
External links