Jurassic World: Dominion Dominates Fandom Wikis - The Loop
Play Sound
Who by Fire
---
---
---
---
| | |
| --- | --- |
| Original airdate | April 13, 2014 |
---
Nielsen rating
18-49 rating:
0.60
Viewers (million):
1.87
---
---
---
---
Abe must discover who murdered a Royal Officer before Anna is framed for the crime. Ben and Caleb brutally interrogate Simcoe.
Summary
At the site of the ambush in the Connecticut forest, Lt. Wakefield orders his men to collect the bodies of the officers and bury the remaining Redcoat corpses nearby. He finds the Queen's Ranger bonnet that Ben placed on one of the bodies.
At the Woodhull farm, Abe awakes to find Mary in the middle of sleep prayers, praying for the safety of their family and crop. Mary suggests they move in with Abe's father. Abe refuses to consider the idea and insists they'll have enough money once he sells the remaining cabbage.
Mary looks out the window and sees their shed is on fire. Abe runs outside, but it's too late: The shed is quickly consumed by flames, along with the cabbage stored inside. Abe sees two men in Guy Fawkes masks on horseback galloping away.
The next day, Abe visits his father and admits that he lied about pirates taking his money in the Sound. He says he should have accepted Richard's offer of help and hands over the money he hid before coming back to town. Relieved that his son is innocent, Richard confides to Abe that he's drawn up a list of suspects in Captain Joyce's murder, and that Anna is his top suspect.
At Strong Tavern, Anna serves Abe an ale to celebrate the ambush in Connecticut and Simcoe's presumed demise. Abe warns her that his father suspects her in Joyce's murder. Anna offers to look through Joyce's belongings, which are still in her house from Joyce's time being quartered there, for evidence that will exonerate her.
In a colonial jail on the Connecticut border, Ben and Caleb debate letting Simcoe live. Ben hopes to learn the identity of the mole in the Continental army, but Caleb doubts Simcoe knows anything. Inside a grimy cell, a militia thug tries to extract a musket ball from Simcoe's leg. When Ben enters, Simcoe predicts that Ben eventually plans to kill him and refuses to answer any questions.
In a New York City theater, John André meets with Robert Rogers during a comedic pantomime of the Gunpowder Plot being performed to celebrate Guy Fawkes Day. André hands Rogers the Ranger bonnet and warns that a rebel has it out for Rogers. Rogers deduces the bonnet was left by the dragoon who escaped his earlier ambush. Angered, he immediately leaves to investigate the Connecticut ambush himself.
Anna searches through Joyce's belongings and finds a hidden love letter. Later, she meets Abe by an old oak tree where they used to meet as kids and reads parts of the letter aloud. She notes that the letter reveals that the lovers' signal to meet was when the company drummer would "sound retreat."
André has sex with Philomena, an actress from the theater. She flatters André and slyly asks how many men he commands. He boasts that he oversees all of British intelligence.
At the Setauket church, Richard tries to convince Hewlett that Anna killed Joyce. Hewlett says his priority is to secure the garrison, not hunt down Joyce's killer. Rogers arrives with a letter of introduction from André. Hewlett welcomes the "famed" Rogers and sends Richard away.
Rogers explains that he's tracking down the soldier who left the Ranger bonnet and rebukes Hewlett for the shoddy investigation at the ambush scene. He then demands to see the bodies of the officers from the Connecticut raid.
In the tavern cellar, Hewlett shows Rogers the barrels in which the bodies of the three fallen officers from the ambush are being kept. A fourth barrel holds Captain Joyce's body, but Hewlett insists Joyce's death is unrelated to the ambush. Rogers disagrees and decides to look deeper into Captain Joyce's murder.
In the colonial jail, Ben apologizes for Simcoe's rough treatment and tries to ply information out of Simcoe with wine and conversation. Simcoe sees through his scheme and mocks the rebel cause. Angered, Caleb beats Simcoe with his own brand of interrogation.
Back in Setauket, Rogers approaches Abe and Richard at the village's bonfire celebration for Guy Fawkes Day, introduces himself to Abe, and offers to buy them a round of drinks.
In Strong Tavern, Rogers says he suspects Joyce's death is connected to the Connecticut ambush on Joyce's men. He then shows them a commemorative Guy Fawkes Day silver coin he earned for his service to the crown during the Seven Years War, inscribed with the motto "He who conceals himself is detected." As Anna serves them drinks, Rogers asks her to join them. Abe asks Anna to show Rogers the love letter she found in Joyce's room, and postulates that Joyce was killed by a jealous husband. "Let's ask Captain Joyce," Rogers says.
In the cellar, Rogers pulls Joyce's pickled body from its barrel. In addition to the cut across Joyce's throat, Rogers finds a second stab wound in Joyce's lower back, which he surmises means Joyce trusted his killer and had his back turned when he was attacked. After coming up with a list of female villagers who work and live within earshot of where the company drummer regularly signals, they narrow it down to two possible suspects: Klara Dejong...and Anna.
Back outside at the bonfire celebration, Rogers orders the company drummer, Ensign Clayton, to sound retreat as they observe Klara. She doesn't react to the drummer. Neither does Anna. However, Abe notices Robeson freeze at the sound. Abe later confronts Robeson and tells him to meet him "where you killed Joyce" at midnight.
In the forest, Abe shows Robeson the love letter. Robeson admits he killed Joyce after Joyce blamed him for starting the tavern brawl that got him dismissed by Hewlett. Robeson also admits to torching Abe's shed to fuel the town's hatred against Abe, of whom he intends to make a scapegoat.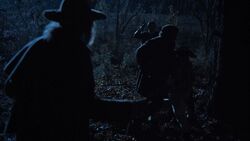 Robeson then turns and whistles, and Ensign Clayton emerges from the darkness and attacks Abe. Abe screams, "Major!" Rogers jumps out and kills Clayton, then confronts a terrified Robeson, who pleads for his life.
Rogers informs Robeson that in exchange for letting him live and not revealing his buggery with Joyce to the townspeople, he will serve as Rogers' eyes and ears in Setauket. Rogers then makes Abe give his word that he'll keep the arrangement with Robeson a secret and let him know if Robeson tries to flee, and gives Abe the Guy Fawkes silver coin for his trouble.
Caleb and Ben interrogate Simcoe but still get no answers. Simcoe threatens them. Angered, Caleb decides to kill Simcoe. Ben says he'll do it himself and goes for his weapon. General Scott rushes in. Scott apologizes to Simcoe for his ill treatment and orders Ben to report to Fort Lee to face disciplinary charges.
After having sex with him again, Philomena asks André where his next mission will be. He reveals he has just completed his mission: recruiting a young agent. He asks his new honeytrap if she's ever been to New Jersey.
Concerned for Anna's safety, Abe meets her at the oak tree. "I've seen that a signal can be detected, no matter how secret it is," he says, imploring her to stop hanging petticoats for Caleb. He also informs her that Simcoe's body was not found at the Connecticut ambush site. He concludes by telling her "I won't risk you further. It is too dangerous for us to meet, or even see each other," and leaves her standing alone in the forest.
Quotes
Credits
Cast
Starring
Also Starring
Co-Starring
Crew
Opening credits
TURN
Closing credits
Co-Producer Mitchell Akselrad
Co-Producer

Aïda Mashaka Croal

Associate Producer

Jim Hilton

Executive Story Editor LaToya Morgan
Unit Production Manager

Larry Rapaport

First Assistant Director

Jason Ivey

Second Assistant Director

Caroline Stephenson

Virginia Casting by

Erica Arvold

, CSA
Costume Designer

Donna Zakowska

Production Supervisor

Kate Amer

Art Director

Richard Blankenship

Set Director

Catherine Davis

Property Master

Kelly Farrah

Head Hair Stylist

Ardis Cohen

Head Make-Up Artist

Ashley Fetterman

Stunt Coordinator

Kid Richmond

Production Coordinator

Christina Garnett

Production Accountant

Marjorie Leder

Location Managers

Tom Trigo

,

Becky Beckstoffer

Key Assistant Location Manager

Josh Mumford

Steadicam/A Camera Operator

Christopher Haarhoff

B Camera Operator

Jim Contner

Special Effects Coordinator

Ray Bivens

LA Casting Associate

Kendra Shay Clark

, CSA
VA Casting Associate

Michelle Kelly

Production Sound Mixer

William Britt

Re-Recording Mixers

Aaron Levy

,

Ethan Beigel

Supervising Sound Editor

George Haddad

Music Supervisor Thomas Golubić
Music Consultant

Tony Berg

Music Editor

Chris McGeary

Post Production Supervisor

Christina M. Fitzgerald

Post Production Coordinator

Michael Prosetti

Post Production Assistant

Mark Torres

VFX Supervisors

Christian Cardona

,

Brad Kalinoski

Assistant Editor

Tamara Luciano

Production Services Provided by Stalwart Films, LLC
Visual Effects by LookFX, Inc.
Post Production Sound by Todd-AO Studios
Digital Dailies

Rex Teese

High Definition Post Production ArsenalFX Color
Main Title Design by Shine
Main Title Theme "Hush" by

Joy Williams

,

Charlie Peacock

&

Matt Berninger

Filmed with ARRI Cameras and Lenses
Special Thanks to The Commonwealth of Virginia, Virginia Film Office, Virginia Department of Corrections
Appearances
By type
Characters
Events
Locations
Organizations and titles
Sentient species
Miscellanea
Links and references
External links